3 Ply Disposable Mask
3 Ply protect
Soft and breathable
Perfect attach onto face
Skin-friendly non-woven fabric
Waterproof treatment, isolate the droplets sprayed by patients
Specially treated meltblown non-woven fabric with good filterability, shielding, heat insulation and oil absorption
Air permeability, filterability, water absorption, water resistance, good feel, softness and lightness
Standard Bacteria Filtration Efficiency (BFE)95% Particle Filtration Efficiency (PFE)95%.
Suspended particulate matter filtration rate 30%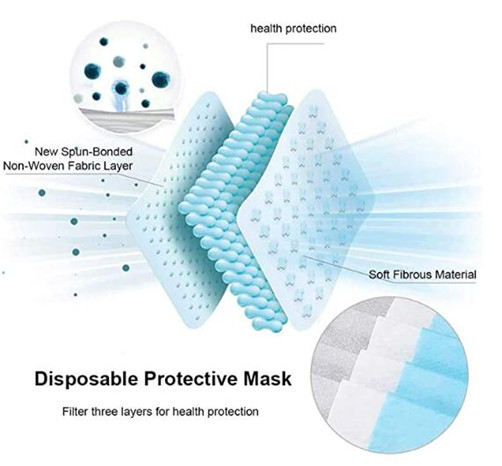 Quick Details
Place of Origin: China
Product name: 3 Ply Disposable Mask
Color: white,white/blue, custom colors if big quantity
Size: adult size17.5x9.5cm,kid size 14.5x9.5cm
Material/Fabric: 3 Ply (25g nonwoven+25g meltblown+25g nonwoven)
Outer layer: 25g pp non-woven fabric. waterproof, preventing liquid from entering the mask.
Second layer: 25g Melt-blown cloth Middle layer: A high-level electrostatic filter non-woven fabric is used to effectively prevent fine dust and bacteria. The bacteria filtration efficiency is high (BFE), and the particle filtration efficiency is high (PFE)
Third layer: 25g non-woven fabric Soft and comfortable PP non-woven fabric
Ear Loop:Nylon yarn & High elastic spandex yarn, 0.85g/m, Diameter 3mm
Nose bar: single core nose bar,Width 3mm, Thickness 0.8mm Polyethylene and iron wire
Usage: Personal Respiratory Protection
Package Type: 50 pieces in one box,then 2000 pieces in one carton
Carton Dimension: 51cm *39 cm *35cm
MOQ 2000 pieces
Capacity 5 million a day
Delievery time 3-7 days by air .20-30 days by sea
Cautions have warning instructions:
1. check the integrity of the small package. if the small package is damaged, don't use it.
2. this product has been sterilized with ethylene oxide and has a validity of two years.
3.this product is for one-time use and destroyed after use.